Check out all first drive reviews of the Outlander PHEV here!
AutoGuide.com
Verdict:
Vancouver's snowfall served as a timely reminder to always be prepared. The 2023 Mitsubishi Outlander PHEV sure is.
When we did our
massive 11-SUV comparison
the Outlander's sibling, the Nissan Rogue, was the highest-scoring non-electrified entry. Our biggest criticism was the lack of a hybrid. The Outlander addresses that, with a quieter, more refined drive to boot. It also offers more space when you need it, and the ability to control when the SUV does (or doesn't) use electrons. To these eyes, it's even more stylish. Add it all up, and the Outlander PHEV makes a strong case for mainstream success.
Ars Technica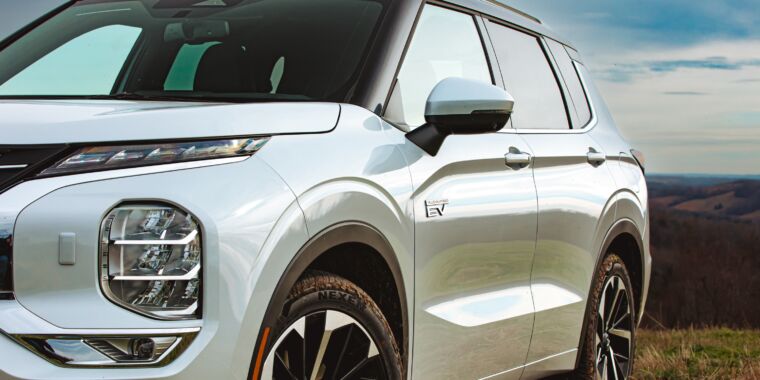 26 mpg once the battery is depleted is not amazing, however.

arstechnica.com
Verdict:
Overall, we're impressed with the 2023 Mitsubishi Outlander PHEV, minus the mediocre gasoline efficiency. It fulfills the basic expectations of a plug-in hybrid SUV and gains an advantage for its sporty handling and off-road capabilities.
Pricing starts at $41,190 (including $1,345 in destination charges) for the base ES trim and climbs to $46,790 for the top SEL model. That's in line with the
Toyota RAV4 Prime
, but several thousand more than the Hyundai Tucson and Ford Escape plug-ins. EV range is competitive between all of these, with the RAV4 Prime leading with 42 miles.
This bodes well for Mitsubishi's future in the US but also spotlights one of its few drawbacks: a limited dealer network. With only about 320 Mitsubishi dealers in the US, finding and servicing an Outlander PHEV may not be as easy as Hyundai (800-plus locations), Toyota (1,200-plus), or Ford (almost 3,000 dealers). To sweeten the deal, Mitsubishi offers a 10-year/100,000-mile warranty that beats even Hyundai, so if there's a dealership near you, we highly recommend checking out the Outlander PHEV.
Motor Trend
The Mitsubishi Outlander PHEV was the first plug-in hybrid SUV and continues to carve a path for the brand within the Nissan-Renault Alliance.
www.motortrend.com
CNet
Mitsubishi's second-generation plug-in hybrid makes a strong showing in a shrinking, but still very valuable, niche.
www.cnet.com