Discussion Starter
·
#1
·
2020 Outlander Sport, Front wheel drive, 6,000 miles, automatic CVT... New in May of 2020
This is an on going issue since the car was new, it's getting worse. Dealer service manager says, "don't worry it's under warranty for 5 years." HUH! I tried my OBD2 and no code(s) show up. Service Manager (same one wants to charge me) for a diagnostic, if nothing shows up. Also Customer Service at Mitsubishi USA is a joke.
Right around 1500 RPM's (between 1400 and 1700rpm's) the car starts to vibrate. I can feel it thru the shifter and steering wheel. A year and a half ago it was subtle vibration... Now it is worse and I can hear it by the engine noise.
Once it gets above 1700 RPM's everything is smooth going. Going up a grade the vibration is worse.
Has anyone experienced or heard of this type of problem, if so,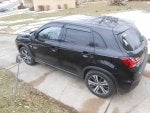 and what is the fix?